Modular Buildings for Rent Dallas, TX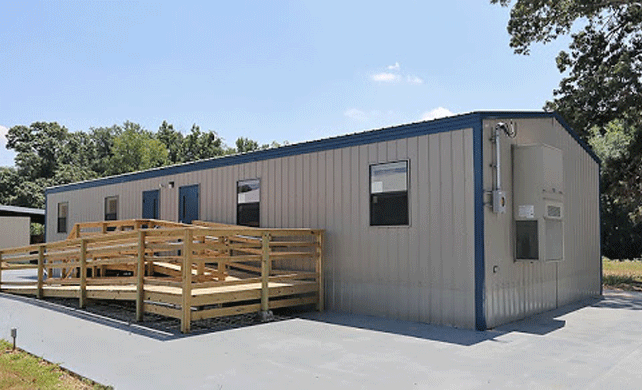 From extra classroom space to job site offices, modular buildings are a convenient way to create more space to run your business. Here at Texas State Modular, we offer both temporary and permanent modular buildings:
Temporary modular buildings are structures that meet short-term needs for additional space, ideal for job site trailers, temporary classrooms and offices, and swing space. They have the ability to be relocated and repurposed for the ultimate in flexibility for people with ever-changing needs.
Permanent modular construction is an alternative to conventional onsite construction, built to meet building codes with the capability to achieve improved standards of quality. These buildings are manufactured off-site, and are designed for long-term needs.
Modular buildings can also be custom built to your specifications, with any add-ons and modifications you need. Here are some of the start to finish turnkey services available for your modular building:
ADA-compliant decks, ramps and steps
Electrical
HVAC
Plumbing
Installation of foundations and parking lots
Connection of all utilities
Canopies
Rely on our locally owned and operated company to serve the entire Dallas Metroplex and beyond. Rest assured, modular construction gives you quick temporary or permanent building space solutions for expansion, swing space and overcrowding. We help you leverage fast and efficient off-site construction methods and modular building construction in a safe, affordable manner. In fact, our solutions can significantly shorten your project schedule!
Benefits of Modular Construction
More and more companies and business owners are looking to build modular spaces for fast, cost effective and efficient solutions. Check out the many benefits of modular construction:
1.     Speed
Modular buildings can be completed between 30 and 50 percent more quickly than traditional construction methods. The indoor construction process means you don't have to worry about weather delays.
2.     Minimal impact on your business
About 80 percent of the construction activity takes place away from the actual site location, which means you can keep your school or office running smoothly with minimal downtime.
3.     Eco-friendly materials
Modular buildings are built with eco-friendly recycled materials, resulting in a sustainable construction process.
4.     Cost-effective
Modular constructions are cost-effective, with a shorter construction time and flexible payment options.
5.     Flexibility
Thanks to the custom design, modular buildings are very flexible, meeting your unique requirements whether you need extra space for an office, garden room, studio, classroom or music room.
Contact Texas State Modular
To learn more about our mobile offices or to get a free quote, contact us at 888-943-8663. And don't forget to check out our inventory fleet.
Looking for other options? We also provide Texas with mobile offices, Conex offices, restroom units, security shacks, exterior decks and ramps, and more.