Conex Office Units in Texas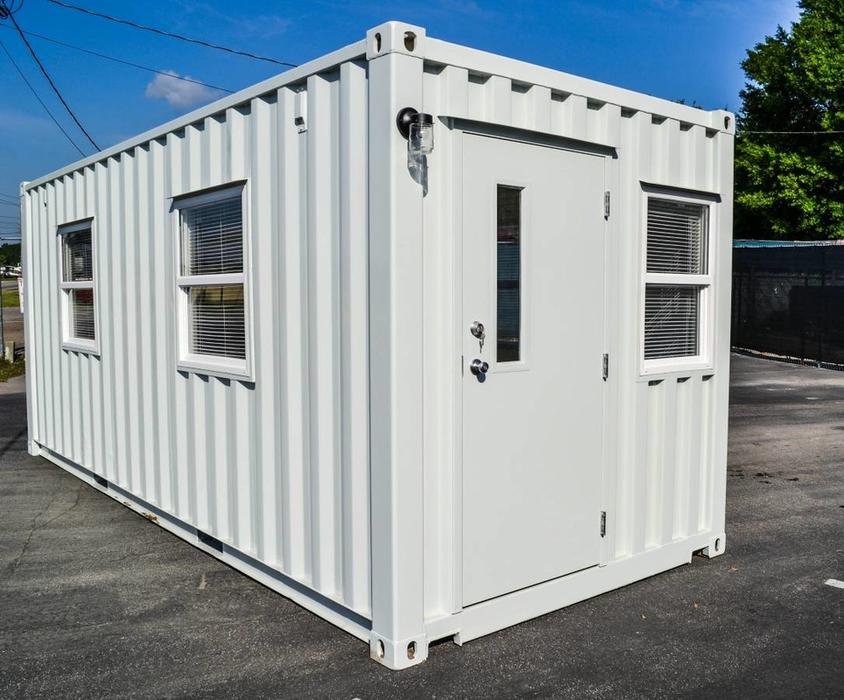 If your business requires ground level field offices in Conex containers, you have come to the right place. Serving the entire Dallas Metroplex and beyond, we are Texas State Modular, a locally owned and operated company dedicated to your complete satisfaction when it comes to custom built Conex office units. We serve our customs in and around Dallas, Texas and Fort Worth, Texas.
Conex office units are essentially storage containers converted to offices. They are great for real estate agents on new developments, job site construction, and home offices.
Other great uses include:
Supplemental office space
Private conference room or meeting space
Dual office with half bath
Work/utility/storage space
Climate-controlled storage
Employee break room
School nurse's office
Benefits of Conex Office Units
Our mobile field offices are constructed of the highest quality materials, offering many benefits over traditional modular buildings, such as:
Safety and Security: Thanks to steel construction and sturdy doors, you get exceptional security of personnel and property.
Weather Resistance: Can handle snow loads without leaks.
Durability: Enjoy 25-year lifespans, with minimal maintenance needed.
Fast Deployment: When conditions permit, you may place shipping containers directly on the ground without needing a foundation.
Turnkey Solutions: Plug-and-play electrical and plumbing components are included.
Built-in Mobility: Simple to relocate around a job site or across the country.
Reliable Comfort: Climate control systems ensure you stay comfortable in all weather conditions.
Customizable: Half-bath upgrades and other options are available.
Conex Office Units Add Ons
Whether you're a real estate agent trying to sell homes in a new development or a construction foreman in need of an on-site space, a Conex office unit could come in very handy. They can be customized to your specifications, with a variety of modifications and add-ons, such as:
Electrical
Plumbing
HVAC/climate control
Windows
Walk-through doors
Roll-up doors
Decks and ramps
Rely on our locally owned and operated company to serve the entire Dallas Metroplex and beyond. Rest assured, Conex units give you quick temporary or permanent building space solutions for expansion, swing space and overcrowding. We help you leverage fast and efficient off-site construction methods in a safe, affordable manner. In fact, our solutions can significantly shorten your project schedule!
Contact Texas State Modular
To learn more about our mobile offices or to get a free quote, contact us at 888-943-8663. And don't forget to check out our inventory fleet.
Looking for other options? We also provide Texas with mobile offices, modular offices, restroom units, security shacks, exterior decks and ramps, and more.