Dallas Shipping Containers
Dallas shipping containe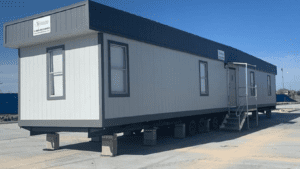 rs are in higher demand than ever, especially when they're of the high quality we offer here at Texas State Modular.
Containers are typically used for storage purposes, providing a convenient and secure way to safeguard items while keeping a worksite organized. However, their functions don't end here.
These containers can also function as standalone facilities, filling the role of administrative offices, security centers, entrance areas, break rooms, and more. It's no wonder that more people in Dallas are looking for containers for sale.
We're proud to serve the Dallas area with top-quality containers and customer service to match. Here's a bit about why the area's residents are always looking to find high-end shipping containers for sale, and how these units add value in many applications.
Texas State Modular is Excited to Serve the Dallas Area
When you say the name Dallas, Texas, anyone who lives there or has ever been nearby will immediately understand what the name entails. It translates to excitement – it indicates a bustling location that brings people from all over together for personal and professional purposes.
Many people love moving to this area to start a business, participate in the lively community atmosphere, and get in on the excitement of this fast-growing area. Our selection of Dallas shipping containers and modular accessories fit in perfectly with this area's creative and innovative spirit, providing various helpful functions for organizations of all types.
How Dallas Storage Containers Help Local Organizations
Dallas, Texas is a bustling area that attracts numerous organizations, businesses, and projects, making it a vibrant and thriving hub of economic activity. Dallas offers:
A strategic location as part of a major metroplex

A favorable business climate

that supports innovation

Robust infrastructure that supports travel and community
One of the key reasons why Dallas is a hotbed for organizations, businesses, and projects is its central position within the United States. Located in the heart of Texas, Dallas serves as a major transportation and logistics hub, with excellent connectivity via highways, railways, and an international airport. 
This advantageous location makes it an ideal choice for businesses seeking to establish distribution centers or headquarters, thereby fostering a vibrant commercial landscape. Among the many services that thrive in this environment, storage container solutions have found a special place in Dallas.
Furthermore, Dallas boasts a business-friendly environment characterized by low taxes, minimal regulations, and a skilled workforce. The city has consistently ranked among the top destinations for corporate relocations and start-up ventures, attracting a diverse range of industries, from technology and finance to healthcare and manufacturing. The presence of numerous organizations and businesses creates a high demand for container solutions.
How Storage Containers Support the Dallas Economy 
Storage containers have become increasingly popular in Dallas due to their versatility and convenience. These containers serve as an efficient means of storing goods, equipment, and inventory for organizations and businesses of all sizes. With the city's thriving industrial sector, storage containers offer a cost-effective and secure storage solution, allowing businesses to manage their inventory and assets efficiently.
Moreover, Dallas storage containers are not limited to commercial use alone. They have also gained popularity among individuals seeking:
Additional storage space

Standalone rooms and areas

Extensions to existing buildings and sites
In a city known for its fast-paced lifestyle, residents often face the challenge of limited space in their homes or apartments. Storage containers provide an innovative solution by offering extra storage capacity, allowing individuals to declutter their living spaces without the need for expensive renovations or relocating.
The robust infrastructure in Dallas complements the functionality of storage containers. The city's well-developed road network and easy access to major highways facilitate the transportation and delivery of storage containers to various locations. Additionally, the availability of land and storage facilities in and around Dallas ensures that individuals and businesses can find suitable options for their modular container needs.
We've Got Dallas Containers for Sale
In conclusion, Dallas, Texas, stands out as a bustling area teeming with organizations, businesses, and projects. Its strategic location, favorable business climate, and strong infrastructure have attracted a diverse range of industries to the city. 
Within this vibrant environment, storage containers have gained popularity as an efficient storage solution for businesses and individuals alike. Whether it is storing inventory for a bustling business or creating additional space for residents, Dallas storage containers provide a versatile and practical storage solution, contributing to the city's thriving economy and bustling atmosphere.
We offer:
We also offer custom builds to provide you with the exact solutions you need. We're not just a Dallas company with shipping containers for sale – we provide tailored solutions that fit countless needs for organizations in this area.
Supplement Your Dallas Shipping Containers
Not only do we provide high-quality container options, but we also offer the accessories to match. These add-ons can supplement and support your storage container solutions, creating even more value for you and your organization.
HVAC, electrical, and plumbing

Site and parking lot prep

Canopies
With accessories and support like this, your container can fulfill any role. Whether you need a storage unit, a facility, or some hybrid of the two, you will be prepared for success when you reach out to us for shipping containers in Dallas.
Reach Out to Texas State Modular Today
Our container solutions are versatile and customizable, making them ideal for organizations all across Dallas and beyond. But what truly sets us apart isn't just our high-quality inventory and accessories. We also provide unmatched customer service to everyone we work with.
No one likes to feel like they're just a number, and that they're being pushed into a sale. We work to understand your needs, and we use our extensive experience to provide you with the best shipping containers in Dallas for your unique needs.
Our locally owned and operated company is committed to your complete satisfaction, and we'll work diligently to deliver on all your needs with our Dallas shipping containers and accessories. 
Ready to get started exploring our shipping containers for sale? Contact us today and let's find the perfect solution for you.