Mobile Offices for Rent & Sale in Dallas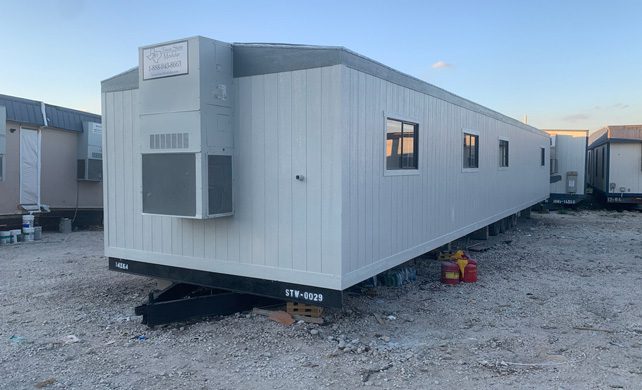 Whether you're a real estate agent trying to sell homes in a new development or a construction foreman in need of an on-site space to conduct business, a mobile office could come in very handy. Mobile offices are just that: mobile. They can be custom built to your specifications, with any add-ons and modifications you need to make it work for you. We will bring your mobile office to you and help you get settled in.
We are Texas State Modular, a locally owned and operated company dedicated to your complete satisfaction when it comes to custom built shipping containers, mobile offices, or modular fleets and spaces. We serve the entire Dallas Metroplex and beyond.
Uses for Mobile Offices
One of the most common uses for our shipping containers and modular spaces is job site offices. They are available in both standard sizes or combined with two or more to create a larger or wider space. Lease or buy a product within our in-stock modular fleet, with ready-to-use equipment utilized in these applications:
Temporary job site office/construction management facility
Sales office for premier home builders
Education classroom/administration office
General expansion space for various businesses
Medical professional space
Options & Add-Ons for Mobile Offices
Feel free to add on any feature you want that will make your mobile office more efficient, such as:
Electrical
Plumbing
HVAC/climate control
Windows
Walk-through doors
Roll-up doors
Decks & ramps
Mobile office trailers are an ideal option for small businesses, as they allow you to move around to different locations, save money, and test out various office layouts. This freedom of movement is a main reason so many people choose this option when considering office space rather than a fixed location involving new construction.
From contractors and hospitals to schools and real estate agents, our mobile offices offer many positive benefits.
Contact Texas State Modular
To learn more about our mobile offices or to get a free quote, contact us at 888-943-8663. And don't forget to check out our inventory fleet.
Looking for other options? We also provide Texas with modular buildings, Conex offices, restroom units, security shacks, exterior decks and ramps, and more.